Pondering his best options
Some clients come into your life and they say, "Just tell me what you want me to do."
Can I just say, you're a dream to work with!  This client is just one of those clients. His trust that we had his best interests at heart in gaining his full financial potential in the least amount of time makes all the difference. He had lots to do but with a list of instructions he was off to completing his task list as requested.
I write this blog, not to just tell you that he was a dream to work with, but to point out that there are several different ways of coming to a decision in regards to how you list your home.  I particularly want to point out his kitchen. With a set amount of cash and time to complete upgrades, this client set out to consider his options prior to listing.
Take a look at his kitchen and help him ponder the following: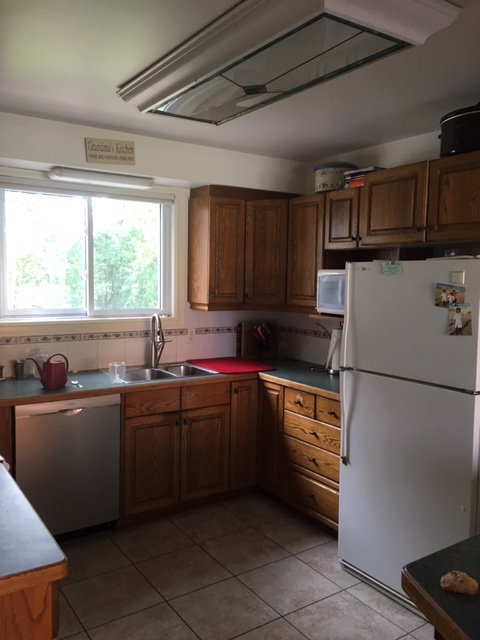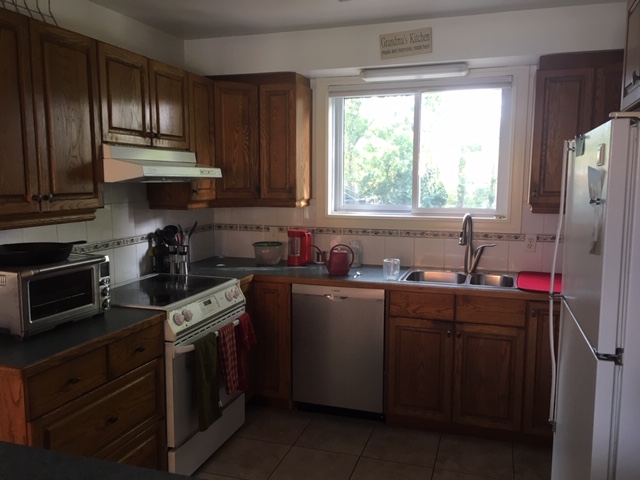 The natural wood grain cabinets were in good repair but dated
The kitchen was generally dark and the wood cupboards only added to the dark atmosphere
ummm….that green counter!?  Do I need to say more?
The panel lighting….well, even the client knew it had to go.
Space, although laid out well, you were limited in cupboard space as well as number of people who could be in the kitchen.
Knowing that most buyers CANNOT VISUALIZE a change that they can make to a home AND with limits to our budget, time and available manpower we opted for the following:
Paint the cupboards to brighten the space and give the illusion of a larger area
Replace the light fixture with an updated choice(matching to adjoining dining room)
Added a countertop bonus of $$$ to the listing to allow the new buyer to choose their own choice of granite(or countertop of choice).
The results are pretty clear: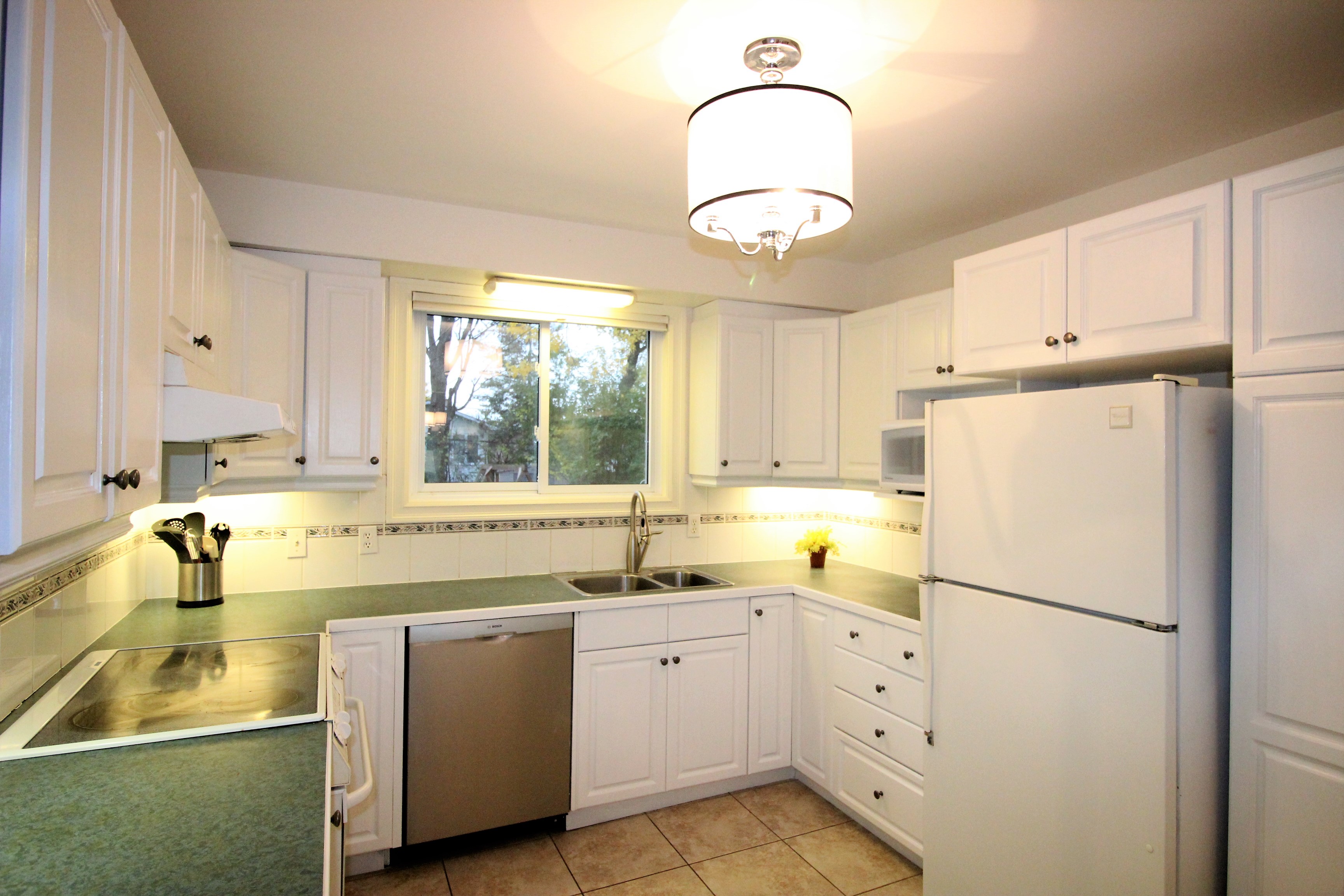 Buyers sit at home and scroll through picture after picture of potential homes they would consider viewing.  My motto at Realty Difference is to never post a bad picture as exemplary marketing depends upon a high quality of visual representation that lures a client to call for a viewing NOT delete the home from consideration.
Putting a little extra effort into your presentation is always a WIN. Realty Difference partners with you in making sure that we do everything we can within the constraints of your time and budget. Oh yes, I guess you could say that it helps that I am both a Stager and a REALTOR®!
The adjoining dining room couldn't be left out of the face lift!  With oversized furniture that were not going to make the move to a new home, it left the decision clear: It needed to go.
Showing a Buyer that there is plenty of space in any room they are considering is paramount.  Don't be afraid of leaving spaces empty in the marketing pictures.  It allows the Buyer who is viewing that picture the ability to place their own furniture in that space.
Updated chairs, smaller table, removal of oversized hutch, updated light fixture, and area rug, all added to the enhancement of this dining room. Small amount of effort for a gain in better photos online. (no this client did not have to purchase these items).
My client happily sent me the response of his children(who live out of town) as he sent them a video of his newly improved home:
(edited of course, for Realty Difference)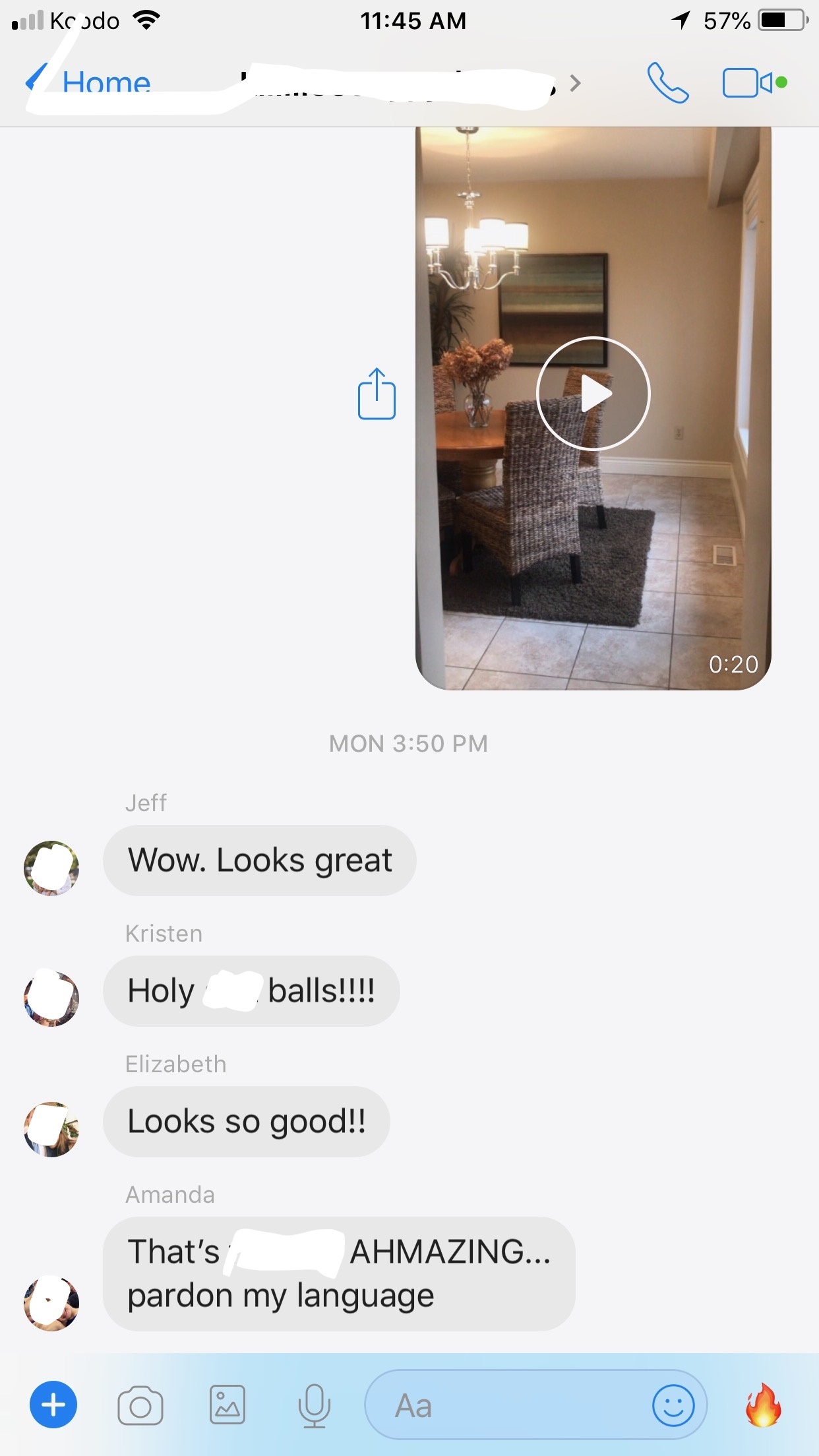 My clients response:
"I was totally amazed at the difference staging made to the appearance and marketability of my house.  It was wonderful to have someone who knew how to use colour and accessories to change the entire atmosphere of the house.  Most importantly Karen helped me to open up the house.  Removing a few pieces in the right places made all the difference.  I thought trying to live in a staged house would be difficult but quite to the contrary, I found myself enjoying the new environment. So much so that I will take the lessons learned to my new home!  My house sold quickly for a good price which was the goal.  The change to my approach to living spaces though is the "priceless" part.  Thank you Karen!"          Steve
#changeyourapproach  #ponderingyourbestoption  #realtydifference #livingandlisting