"I'll drop the price later"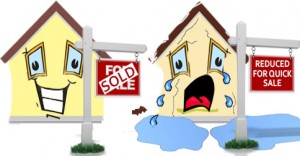 Sellers often ask if they should start with an aggressive price and wait to drop it after a month or two if their home doesn't sell.  However, this is a very risky strategy.
Buyers are savvy!
They've done their research, they've looked (at least online) at all the other homes in your price range.  If you're selling an updated, 1800 sqare foot, 3-bedroom, 2-1/2 bath home with a finished basement and nice yard in a good neighbourhood, and you're priced $20,000 above all the other similar homes, the buyers are already on to you!
Buyers who can afford to pay your extra $20,000 will be comparing your home to similarly priced homes, which will be larger, more upgraded, or in an even more desirable location – you can't compete!  Best to stack up against similar homes, or they'll all be sold by the time you decide to drop your price.
The seller (you) becomes the buyer!
Chances are, if you're selling your home you are also about to buy another!  When you find a home you like, you'll be asking yourself two main questions about the price:
Can I get a similar home for less money?
Can I get more for the same price?
If the answer to either of these questions is yes, you will be unlikely to make an offer, no matter how much you love the home.
Most buyers will not make a low-ball offer
A quick internet search will reveal the main reason: they do not want to offend the seller.  They would rather keep on looking, or purchase a home that isn't quite as good a fit, just to avoid offending you.
Probably the second biggest reason they don't make an offer is they figure you're out of touch with reality thinking that your home is worth more that comparable homes.  In short, they just don't want to deal with you. Negotiations are very emotionally taxing, and buyers would rather avoid the additional stress of dealing with a difficult seller.  You aren't difficult, but they don't know that!
Time is of the essence
For the reasons we've outlined above, an overpriced home often experiences few showings and no offers…even if it's only inflated by 2 or 3 percent!  If it takes too long to bring down the price, buyers will be wary and reject the property because they think something is wrong with it.  One of the most common questions we are asked by buyers: "How long has it been on the market?"
In a worst-case scenario, a seller runs out of time and has to drop the price below market value.  They would have been better off to list at market value and saved time, money and a lot of stress.