Ottawa's Pizza-Dad's Christmas wish comes true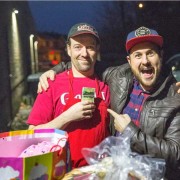 Annalise first met Joshua Barbour when she brought his team to Africa a couple of years ago, and she describes him as "a guy full of great, positive energy!"
Josh started a GoFundMe campaign for a coworker of his at Gabriel Pizza in Ottawa, a single dad with three kids. The big reveal was supposed to be this Friday, but so much support started coming in he didn't think he could keep it a secret any longer! Check out this really cute video!
Talk about the spirit of Christmas!
As reported by the Ottawa Citizen, "Joshua Barbour began working with Darren at Gabriel Pizza in Kanata several weeks ago. Darren — affectionately nicknamed "Pizza Dad" and who prefers to only be referred to by his first name for privacy reasons — had a story that touched Barbour: Everything Darren makes working the late-night shift as a pizza chef goes towards raising his three children."
In just a few days, the campaign had gone viral and raised nearly $7000 for the single dad.  Even GoFundMe donated $1000!